Why has email management become so important? With the introduction and amazing progress of technology the rumours of the paperless office began and most people thought it would make life easier with less paperwork.
We would finally become more efficient and productive.
We started dreaming about all we could do with the extra time in our lives.
Emails were the saviour and it led to increased productivity. We could send mail and receive a reply within hours or even minutes. Unfortunately this proved to be short lived as the number of emails increased exponentially.
Unfortunately instead of only sending and receiving the emails we were introduced to spam mail, advertisements etc This caused our inbox to be inundated with junk mail.
Oh wait if we sign up for this product or service we could get money back or a discount or possibly win a prize. Then we start to receive so many unwanted emails.
Have you ever looked in your inbox and wondered how on earth did this company get my details? How are they getting my email address?
Well most of us have forgotten just how many places we have signed up to and have no idea how many companies have sold our information on to other companies without telling us. We actually agreed to allow them to do it when we signed up to the one freebie or mailing list and didn't bother to read the terms and conditions.
Instead of being a paperless office we now have mountains of paper that need copying, backing up and storing. We are now losing so much time in our working day having to deal with the onslaught of unwanted emails.
How much time are we losing trying to corral the emails. How often have you lost the important email you desperately needed to find in all the junk emails coming in.
We are also bombarded with social media messages, app notifications, and many other sources of distraction. For these reasons the importance of effective email management has never been more obvious and essential. Taking back control of your inbox and your email address is vital.
If you don't know where to start, here are some simple steps to take.
1. Block off some time and dedicate that strictly to checking your inbox. This will immediately improve your productivity.
2. Prioritize important emails that need your attention immediately.
3. Delete any spam messages and unsubscribe from things that you have not looked at in weeks, months, or even years!
4. Set up folders! This may seem simple but it really simplifies things.
5. Make sure to set up filters so messages can go to their respective folders which you have created for your needs.
These are just a few tips for managing your email. However, if your inbox is still too much for you to handle, I can always help!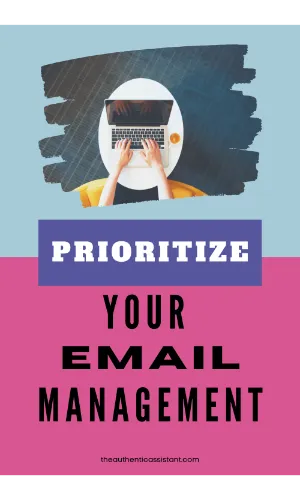 Share this post: