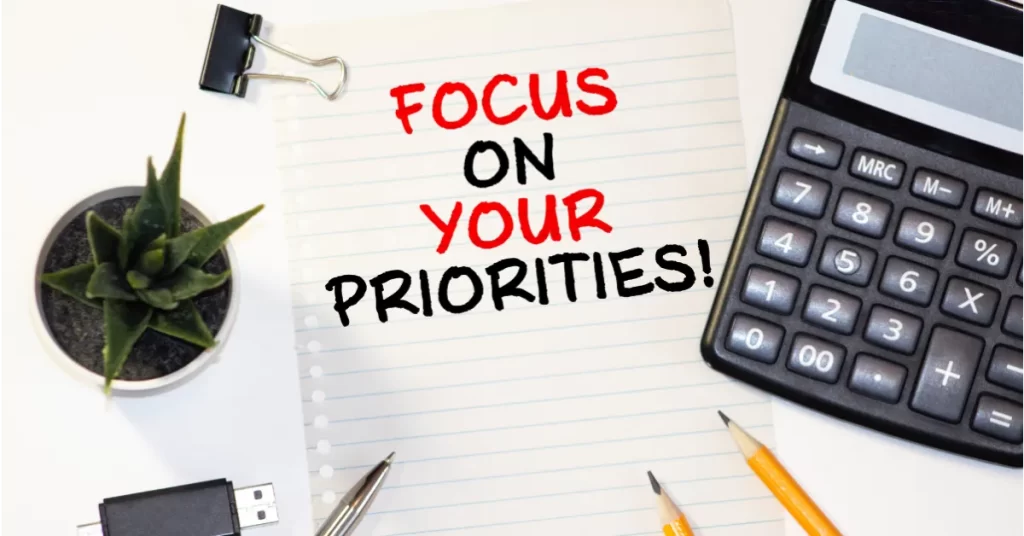 How important are your priorities? We all have moments in our life where we stop and think about what has happened in the last day, week, month or year. Just what have we achieved and how productive have we been?
Do you find yourself thinking why can't I reach my goals or why can't I even complete some of the tasks that I should be?
We all have the same amount of time in our day and we also all have different commitments and responsibilities in our life. It is up to each of us how we allocate the time we have and what we deem as important.
If you feel like you are constantly playing catch up and stressing out and procrastination seems to have set in. Rather do nothing and not know where or how to start? You don't have the energy to even think about it.
Maybe you are not putting yourself as a priority in your own time scheduling. Knowing what your own priorities are gives you a better chance of reaching all of your goals and leading a simpler and happier life. It is time to change your priorities.
Quotes about changing your priorities
"To change your life, you need to change your priorities." – Mark Twain
If you don't even consider your own needs and goals in your daily routine then how will they ever be reached.
"What you prioritize defines your life." – BossBabe
"Make yourself a priority." – Anonymous
"Determine your priorities and focus on them." – Eileen McDargh
"The root of productivity is in personal priorities. Know what matters to you and why." – Melissa Steginus
It is hard to feel like you have to drastically overhaul your way of thinking about yourself as important if you have spent your life up to now making sure everyone else is ok. This is a quote I love saying in some of those moments. It changes my view on things quite often.
"Instead of saying I don't have time, try saying it's not a priority, and see how that feels." – Laura Vanderkam
Make your own recovery the first priority in your life. Anonymous
"The key is not to prioritize what's on your schedule, but to schedule your priorities." – Stephen Covey
Why you need to change your priorities
If you find yourself busy with all kinds of things you agreed to possibly years ago and it was a time that suited you to do them or you felt they were a priority then, things may have changed and the season of your life may as well. There is nothing wrong in pulling back from these commitments if you feel they just are not at the top of your list anymore. E.g. stepping back from your involvement in the primary or elementary school when your children become teenagers. Something simple like that. It could be the time to focus on the current stage of your family life.
Of course letting the group or organisation know that you are no longer able to commit and allow them time to adapt and find others. Maybe right now you cannot commit to it but you may have more time in the future. It is hard to pull back from things, but if you no longer feel motivated and inspired to help them out or volunteer then you are not making the best use of your time and they are not benefiting from the most productive and motivated people.
"Like it or not, the world evolves, priorities change and so do you." – Marilu Henner
People don't change, their priorities do. – Anonymous
"Your decisions reveal your priorities." – Jeff Van Gundy
"If your activities don't match your priorities, you are wasting your life." – Rick Warren
"Subtracting from your list of priorities is as important as adding to it." – Frank Sonnenberg
By removing these priorities from your life you are freeing up focus for the things that are important to you right now at this stage of your life.
"Life is short. Focus on what really matters most; you should change your priorities over time." – Roy T. Bennett
"Selfcare is never a selfish act — it is simply good stewardship of the only gift I have, the gift I was put on earth to offer to others." – Parker Palmer
When you have the chance to free up your schedule and prioritise yourself you may find new hobbies or causes to help and support and feel inspired to do more. A boost in confidence is always a good thing.
Relationships
Have you noticed that some people are not in contact with you anymore or you seem to be always reaching out to them, maybe they have moved on with their lives and have to prioritise other things.
It is up to you to decide where you want to have these people, a part of your day to day lives or keep them as acquaintances and sporadic contact or even move on. Sometimes when you allow yourself some time to think about relationships with some distance from them you may start to see things clearly. You may realise they never seem to have time for you or seem to focus only on others. That is ok and everyone can move on.
This cleansing or declutter of people in your life is not a bad thing, it depends on how you want to see it. It can also be the best opportunity to prioritise your family and the friends in your life. Focus on the things that spark you and them joy. You become open to new people who may inspire you to do even more amazing things with your life.
"No one is always busy. It just depends on what number you are on their priority list." – Anonymous
"Sometimes we outgrow people, you're not a bad person. It happens. It just means that your Priorities have changed." Anonymous
"Priorities, when someone tells you are too 'busy' … It's not a reflection of their schedule; It's a reflection of your spot on their schedule." – Dr. Steve Maraboli
"If it's a priority, you'll find a way. If it isn't, you'll find an excuse." – Jim Rohn
"When it comes to relationships, remaining faithful is never an option but a priority. Loyalty is everything." – Anonymous
"Never put your family, friends, or significant other low on your priority list. Prefer a handful of truly close friends to a hundred acquaintances." – Sam Altman
"Never make someone a priority when all you are to them is an option." – Maya Angelou
Time
We all have the same amount of time in our day and it is all about managing our time in the best way we can. Learn how to be productive and not just busy. Once you change up your priorities it can help you focus on what needs to be done and motivates you to get more done.
"Think of your priorities not in terms of what activities you do, but when you do them. Timing is everything." – Dan Millman
"Don't be a time manager, be a priority manager. Cut your major goals into bite size pieces. Each small priority or requirement on the way to the ultimate goal becomes a mini goal in itself." – Denis Waitley
"There is never enough time to do everything, but there is always enough time to do the most important thing." – Brian Tracy
"Time has a wonderful way of showing us what really matters." – Margaret Peters
"You will never find time for anything. If you want time, you must make it." – Charles Bixton
"When we are forced to do something, suddenly the time is there. Which means it is there all the time, but we've just chosen to limit ourselves by believing that it isn't." – Jen Sincero
"Lack of time is actually a lack of priorities." – Timothy Ferris
"Most of us spend too much time on what is urgent and not enough time on what is important. – Stephen Covey
"Time management is an oxymoron. Time is beyond our control, and the clock keeps ticking regardless of how we lead our lives. Priority management is the answer to maximising the time we have." – John C. Maxwell
Life
Your life is yours to enjoy and try and make the most of. By finding out what is important to you and allowing yourself to follow the steps it gives you the sense of accomplishment and gives you the extra energy and time to enjoy the simple things and lead a happier life.
"Your priorities aren't what you say they are. They are revealed by how you live." – Anonymous
"My first priority is trying to protect my family." – Orlando Bloom
"The reason most goals are not achieved is that we spend our time doing second things first." – Robert J. McKain
"Often in life, we forget the things we should remember, and remember the things we should forget." – Anonymous
"To succeed today, you have to set priorities, decide what you stand for." – Lee Iacocca
"Be ambitious. Get things done. Keep your priorities straight, your mind right and your head up." – Anonymous
"I learned that we can do anything, but we can't do everything… at least not at the same time. So think of your priorities not in terms of what activities you do, but when you do them. Timing is everything." – Dan Millman
"Each night before I go to bed, I take out a small card and write a list of the things I need to do the next day in order of their priority." – Joseph B. Wirthlin
Improve your life by changing your priorities
The priorities you set out for your day, week, month, year or even your life are exactly that, yours. It is up to you to decide what is most important to you. What you put at the top of the list can change as nothing is set in stone. Sometimes things happen that are unpredictable e.g a natural disaster and this makes you rethink everything that you thought was important in your life. The top priority is of course saving yourself and your family (pets included.)
Maybe it's time to declutter a few things in your life whether that is commitments, people, relationships or work and think about yourself and allocate the things that should be at the top of your list.
Knowing exactly what your priorities are gives you a better chance of reaching these goals. Simplify your life and enjoy the important things in your life.
Change your priorities and improve your life.