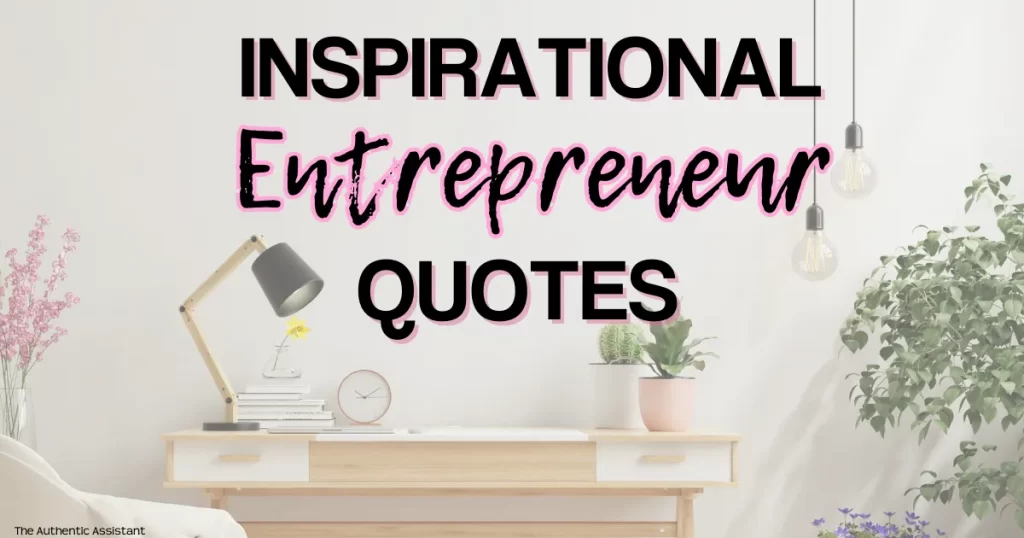 As a business owner it can be hard to find the motivation to keep going sometimes. Are you looking for some inspirational entrepreneur quotes to keep you going? Well here is a selection of positive quotes just for you.
For those of us running our own business or side hustle.
For those budding entrepreneurs thinking of starting their own business.
We all need some motivation to keep going. Some days are harder than others. Let's be honest, there are some brutal days.
Some mornings you don't want to get out of bed from exhaustion. Late in the evening and there still seems to be so much to do and the promise of an early night has once again been broken.
Here are some motivational quotes to inspire you when you need them the most? Read through the post and find which one resonates with you.
Check out my pinterest account and find some other words of wisdom or inspirational quotes that click with you and spark your joy.
Save it and use it as a wallpaper on your computer. 
Entrepreneur quotes to inspire you
"One of the greatest skills of leadership is being unflappable. Anytime you do anything in the world; there's going to be criticism." Arianna Huffington
"You have to see failure as the beginning and the middle, but never entertain it as an end." – Jessica Herrin
"Being a woman in business doesn't come without challenges. My advice? Surround yourself with other supportive women that encourage you, share ideas, and get you motivated." – Jessica Alba
"Entrepreneurship is living a few years of your life like most people won't, so that yo can spend the rest of your life like most people can't." – Anon
"If you are starting something on your own, you better have a passion for it, because this is hard work." – Sallie Krawcheck
"If something is important enough, or you believe something is important enough, even if you are scared, you will keep going." – Elon Musk
Motivational entrepreneur quotes
"Failure is not the outcome, failure is not trying." – Sara Blakely
"When everything seems to be going against you, remember that the airplane takes off against the winds, not with it." – Henry Ford
"Don't get distracted. Never tell yourself that you need to be the biggest brand in the whole world. Start by working on what you need at the present moment and then what you need to do tomorrow. So, set yourself manageable targets." – Jas Bagniewski
"Whatever you can do, or dream you can, begin it. Boldness has genius, power and magic in it." – Goethe
"As a founder, lay all the possible scenarios– from best to worst– in front of you, so you don't get surprised when something happens." – Brian Wong
"Don't let others convince you that the idea is good when your gut tells you it's bad." – Kevin Rose
Short quotes to inspire you
"Dream big, Start small. But most of all, start." – Simon Sinek
"Success doesn't come to you, you go to it." – T. Scott Mcleod
"The best way to predict the future is to create it." – Peter Drucker
"What would you attempt to do if you knew you would not fail?" – Robert Schuller
"Failure shows us the way– by showing us what isn't the way." – Ryan Holiday
"Whatever the mind can conceive and believe, the mind can achieve." – Napoleon Hill
"A ship in the harbour is safe, but that is not what ships are built for." – John A. Shedd
"Everything you've ever wanted is on the other side of fear." – George Addair
"The secret to happiness is freedom… And the secret to freedom is courage." – Thucydides
"I have not failed. I've found 10,000 ways that won't work." – Thomas Edison
"Whether you think you can or you can't, you're right." – Henry Ford
"Never too young to start an empire. Never too old to chase a dream." – Anon
Powerful entrepreneur motivational quotes
"The secret of getting ahead is getting started." – Mark Twain
"The best way out is always through." – Robert Frost
"He who is not courageous enough to take risks will accomplish nothing in life." – Muhammad Ali
"The fastest way to change yourself is to hang out with people who are already the way you want to be." – Reid Hoffman
"Nothing will work unless you do." – Maya Angelou
"Everyone can tell you the risk, an entrepreneur can see the reward." – Theodore Roosevelt
"Chase the vision. Not the money. The money will end up following you." – Tony Hsieh
"The sight of an achievement is the greatest gift a human can offer to others." – Ayn Rand
"If opportunity doesn't knock, build a door." – Milton Berle
"The question isn't who is going to let me; it's who is going to stop me." – Ayn Rand
"Entrepreneurship is neither a science nor an art. It is a practice." – Peter Drucker
Being successful quotes
"Winners never quit and quitters never win." – Vince Lombardi
"To any entrepreneur: if you want to do it, do it now. If you don't, you're going to regret it." – Catherine Cook
"What you can be, you must be." – Abraham Maslow
"As an entrepreneur, you work out solutions." – Les Wexner
"Success is not in what you have, but who you are." – Bo Bennett
"Remember, people don't buy from you because they understand what you sell-they buy from you because they feel understood." – Dan Lok
"The path to success is to take massive, determined action." – Tony Robbins
"Bad companies are destroyed by crisis. Good companies survive them. Great companies are improved by them." – Andy Grove
"Companies don't want you to have multiple revenue streams because then they can't own you." – Codie Sanchez
Positive business quotes
"Being rich is not the ultimate goal. Creating wealth and having time freedom is." – Bedros Keuilian
"You just have to pay attention to what people need and what has not been done." – Russell Simmons
"Build your own dreams, or someone else will hire you to build theirs." – Farrah Gray
"The art of delegation is one of the key skills any entrepreneur must master." – Richard Branson
"I will win. Maybe not immediately. But absolutely and definitely." – Anon
"To know what life is worth, you have to risk it once in a while." – Jean Paul Sartre
"Do not go where the path may lead, go instead where there is no path and leave a trail." – Ralph Waldo Emerson
"The road to success and the road to failure are almost exactly the same." – Colin R. Davis
Productivity quotes to get you motivated
"Believe you can, and you're halfway there." – Theodore Roosevelt
"An essential aspect of creativity is not being afraid to fail." – Edwin Land
"If you want something new, you have to stop doing something old." – Peter Drucker
"The secret to success is to know something nobody else knows." – Aristotle Onassis
"The hardest part about being an entrepreneur is that you'll fail ten times for every success." – Adam Horowitz
"As an entrepreneur, one of my biggest struggles is that you have to focus, but you also have to expand." – Jason Blum
"If you're starting something on your own, you better have a passion for it, because this is hard work." – Sallie Krawcheck
"Any successful entrepreneur knows that time is more valuable than money itself." – Richard Branson
"As a founder, lay all the possible scenarios– from best to worst– in front of you, so you don't get surprised when something happens." – Brian Wong
"Passion, creativity, and resilience are the most crucial skills in business. If you've got those, you're ready to embark on the journey." – Jo Malone
"If we tried to think of a good idea, we wouldn't have been able to think of a good idea. You just have to find the solution for a problem in your own life." – Brian Chesky
"Only the paranoid survive." – Andy Grove
Looking for some women entrepreneur quotes then check out the list here. https://theauthenticassistant.com/celebrating-all-the-female-entrepreneurs/