Why do people think being shy is considered negative?
The power of words and the impact they have on us.
Have you ever wondered about the meaning of some of the words we use everyday and what they actually mean?
I have and maybe that is the introvert in me or is it the curious side of my nature?
Have you always been referred to as quiet, timid or shy and wondered why it is used in a negative way?
If you would look up the word shy in a dictionary, wow! what an old school way of thinking, ok looked online, it states:
nervous or timid in the company of other people.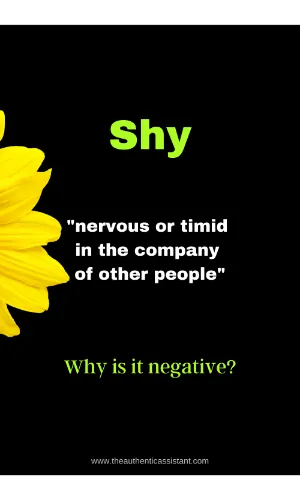 There are so many other synonyms that are used such as bashful, diffident, timid, sheepish, reserved, reticent or introverted. Society has a way of perceiving these as weak or has made them seem uncooperative.
Why? I don't have the answer.
Words matter to shy people
If we swapped the word cautious for shy it makes one look at other people in a different light.
Parents feel hurt or saddened when their child is labelled shy. They wonder what have they done wrong?
Use the term cautious and a smile starts to form. Yes, that describes me or my child exactly.
What does being cautious mean?
The definition of cautious
(of a person) careful to avoid potential problems or dangers.
Being cautious is a positive thing. It doesn't mean that you will never follow your goals, reach your potential or do cool or dangerous things. Yes, cautious people go to parties and social events and they do have close friends and are amazing loyal friends. They can lead very successful, adventurous, happy and fulfilled lives.
It just means that they are more careful and attentive of their surroundings, more observant of the people around them and aware of what is going on. They have more knowledge to make informed decisions and can react to that.
Is that a bad thing? Definitely not.
Being a cautious person myself I have learned to embrace it. This has served me well in my life. I see it as positive and I can spot other cautious people and applaud their strength of character. It is hard in this world of followers and people with FOMO.
When I see children who are cautious, I find myself smiling as if I have found a kindred spirit. These children have that spark. The basic building block that can be nurtured if they are supported and encouraged. Their curiosity in life and trying to understand just what is going on is amazing. They are taking in the new situation and observing the dynamics.
Naturally, each person behaves and reacts differently. Unfortunately, cautious children are not always understood. They are forced to conform to the risk takers. It is as if part of their souls are being crushed.
Watching children grow and develop into their true character is priceless. To have the self confidence to be their true selves. Learn to trust their gut and follow their instincts.
Being cautious means trusting yourself
Trusting yourself is the best thing you can do, one of the most basic things you can instil in children and even learn as an adult.
We should be able to ask questions and we should be able to ask why?
Why am I signing this form?
What does it mean?
How does it affect me?
What does the insurance cover?
Why do they need all this information about me?
Who is using this information and why?
Only after understanding the information can we make the decision we need to make.
The importance of being shy or cautious
Being cautious is important, being aware of your surroundings is essential and being observant is vital. Thinking of being shy as being cautious is intriguing.
Remaining true to yourself and learning from your experiences enhances your own skills to judge the next situation or be better informed to make the next decision, or to trust yourself and just go for it. Jump off that plane and enjoy skydiving and the exhilarating feeling it provides. You have already checked out the company and the safety procedures and protocols. You have made the informed decision.
Maybe we should look at it as our roots. The stronger our roots are the stronger our trunk can be and this strength will help us withstand the forces trying to sway us in other directions.
Start believing in yourself and your instincts.
This is why I would say we should be proud to be cautious and erase the word shy.
Change the narrative and start looking at being shy as being positive.
Looking for some quotes about being shy or cautious? Inspirational quotes for you.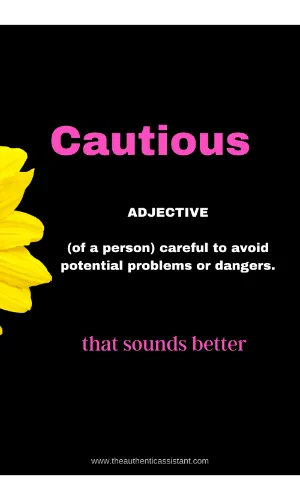 Shy "nervous or timid in the company of other people"