Depending on where you are in the world this is the time of year that winter is losing its grip on nature and Spring is spreading. The days are getting longer and that means more chances to enjoy some bright daylight. Being outside and feeling the warmth in the sun is like the dark days are ending and the possibilities are mounting. You can feel the positive vibes beginning. Trees are starting to bud and flowers are coming out. Nature is waking up from its slumber and the new life is flourishing.
Looking for some inspirational quotes to help celebrate Spring then check out the selection below.
Find the one or ones that speak to you right now. Use some of them as journal prompts or add them to your planner or journal. 
Motivational quotes to brighten your day
"If you have a garden and a library, you have everything you need." –  Marcus Tullius Cicero
"Flowers don't worry about how they're going to bloom. They just open up and turn toward the light, and that makes them beautiful." – Jim Carrey
"Spring work is going on with joyful enthusiasm." – John Muir
"Never yet was a springtime when the buds forget to bloom." – Margaret Elizabeth Sangster
"Blossom by blossom, the spring begins." – Algernon Charles Swinborne
"To plant a garden is to believe in tomorrow." – Audrey Hepburn
"Spring adds new life and new beauty to all that is." – Jessica Harrelson
"Springtime is the land awakening. The March winds are the morning yawn." – Lewis Grizzard
"Spring is when life's alive in everything." – Christine Rossetti
"Some old-fashioned things like fresh air and sunshine are hard to beat." – Laura Ingalls Wilder
"Spring won't let me stay in this house any longer! I must get out and breathe the air deeply again." – Gustav Mahler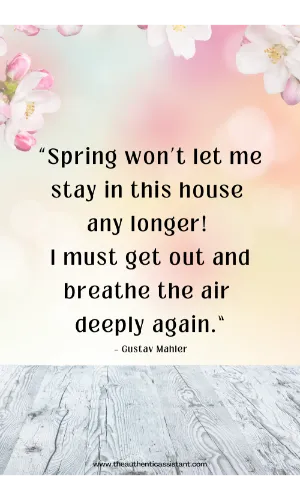 Positive Spring Quotes
"An optimist is the human personification of spring." – Susan J. Bissonette
"Spring will come and so will happiness. Hold on. Life will get warmer." – Anita Krtzan
"What a strange thing to be alive beneath cherry blossoms." – Kobayashi Issa
"Despite the forecast, live like it's spring." – Lilly Pulitzer
"Spring is the fountain of love for the thirsty winter." – Munia Khan
"In the spring, at the end of the day, you should smell like dirt." – Margaret Atwood
"Spring is when you feel like whistling, even with a shoe full of slush." – Doug Larson
"I enjoy the spring more than the autumn now. One does, I think, as one gets older." – Virginia Woolf
"A flower blossoms for its own joy." – Oscar Wilde
"Don't wait for someone to bring you flowers. Plant your own garden and decorate your own soul." – Luther Burbank
"A kind word is like a spring day." – Russian Proverb
"In the spring. I have counted 136 different kinds of weather inside of 24 hours." – Mark Twain
"Always it's spring and everyone's in love and flowers pick themselves." – E. E. Cummings
"If winter comes, can spring be far behind?" – Percy Bysshe Shelley
Spring Quotes and Sayings
"Finally my winter fat is gone. Now I have spring rolls."
"Poor. dear, silly spring, preparing her annual surprise!". – Wallace Stevens
"Spring cleaning never killed anyone. But why take the chance?"
"It's springtime, love is carried on the breeze. Watch out for flying passion or kisses whizzing by your head." – Emma Racine deFleur
"Spring's greatest joy beyond a doubt is when it brings the children out." – Edgar Guest
"Spring has sprung. The grass has riz. I wonder where the birdie is."
"The first blooms of spring always make my heart sing." – S. Brown
"If we had no winter, the spring would not be so pleasant." – Anne Bradstreet
"She turned to the sunlight, and shook her yellow head, and whispered to her neighbour: Winter is dead." – A.A. Milne
"No matter how long the winter, spring is sure to follow." – Proverb
"In winter, I plot and plant. In spring, I move." – Henry Rollins
"Spring is the time of plans and projects." – Leo Tolstoy
"Blossom by blossom the spring begins." – Algernon Charles Swinburne
"You can cut all the flowers, but you cannot keep spring from coming." – Pablo Neruda
Spring is nature's way of saying "Let's party!" – Robin Williams
"The deep roots never doubt spring will come." – Marty Rubin
Short Spring Quotes
A kind word is like a spring day
Spring into spring
Hop into Spring
Put some spring in your step
March into Spring
Spring just do your thing
Here comes the sun!
Plant, grow, bloom
Live life in full bloom
Keep calm and spring
Spring you are my friend
Live like it's spring