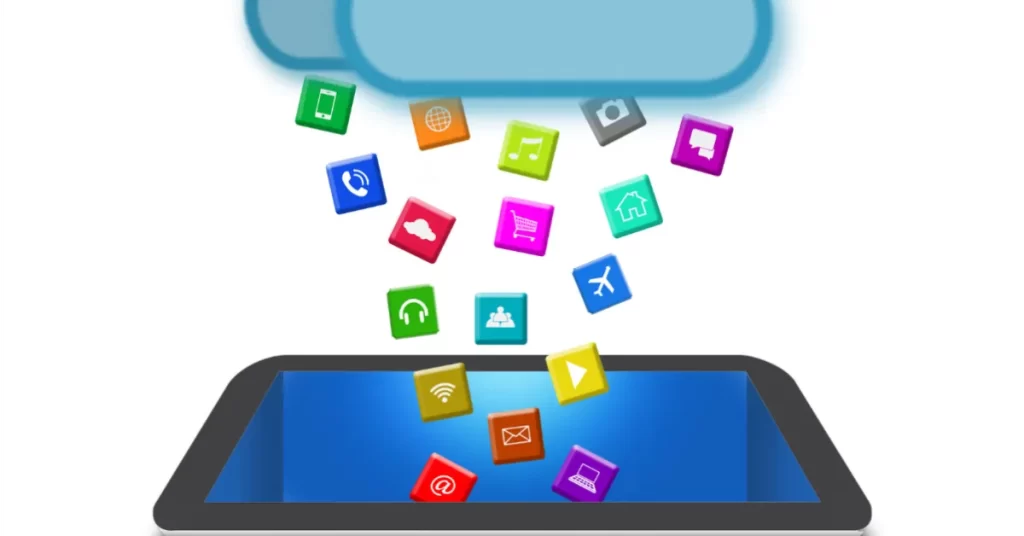 Do you know how many apps you currently use? Are there different ones on your tablet or desktop?
In today's technology driven world we cannot seem to get away from apps. They are everywhere and promise to improve all aspects of your life, both personal and business. Everywhere we go and for almost everything we do there is an app of some kind that assures us it can change and enrich our lives or help us in ways we didn't actually know we needed help in. There is literally an app called "Nothing"
What is an app?
The term app is short for "application." This is a type of software that can be installed on an electronic device which could be a desktop, laptop, tablet or smartphone.
Desktop apps are the full version of the application and consist of all features available within the app and require the use of the keyboard and possibly the mouse. The mobile version of the app has limited access to features and is simpler and easier to use requiring only basic functions. A food delivery app for smartphones for example only needs the user to order the food from the menu provided and delivered to their address. The user can't do anything else with the app apart from this.
How many do you use?
The average person looks at their phone multiple times a day and uses 30+ apps a month. There are also more than 80+ apps on an average phone. This is shocking to think of as that means there are so many apps that are never used but still gaining access to your information from your device and you are allowing it.
No one really knows how many apps are even available for download today as there are not only the reputable sites offering them such as from Google play store and Apple app store. Some say over 5 million apps are currently on offer.
Apps are a part of our everyday lives. So many of us have used google translate when on holiday or even for basic translating and how many of us have installed google classrooms due to online learning with the schools and colleges. Zoom is one that we have all heard of and used. Who can even remember how many zoom calls or meetings we have been in anymore.
We keep in touch with family, friends and work colleagues via various messenger apps. We also have Find my phone or Find my iPhone app. Some of us lose a lot of time in the various social media apps e.g. Instagram, Facebook, twitter etc.
Shops have made it easier to spend money with their apps e.g Amazon, Walmart and many more.
The gaming apps which appeal to our addictive side such as PUBG, Candy Crush and Best Fiends. There is a rabbit hole that so many have fallen into. How many in-app purchases have been made alone in these gaming apps?
While there are so many free apps which we can download, this of course opens us up to in-app advertising. This is how they make their money back and it means we are caught losing time having advertising shown to us which we can't skip. They advertise products or services we have no interest in or they are overselling more apps to us. Some have even added a fee for ad-free versions of their apps.
In 2020 app revenue statistics state that total ad revenue was over $580 billion. That is just unbelievable. Of course the predictions indicate this revenue will increase over the coming years. About 98% of Google Play Revenue comes from free apps.
Free downloads? I don't think so. I wonder how much they are making on selling our information?
Apps for business and work
Then of course in the business world there are so many apps vying for top spot.
They promise to
Improve efficiency
Increase productivity.
Save time and money
Connect staff remotely
Coordinate workflow between various departments.
Some are free and others are claiming to offer the complete package for companies, both small businesses and large multinationals.
While there are some apps which are useful and make our lives so much easier, it all depends on how we use them and of course if we really need to be using them as much as we do.
With all these apps running on our devices just how safe are we? How secure is our privacy?
We wouldn't leave our front door unlocked and open and leave all our paperwork and identification lying on the table for anyone and everyone to photograph/copy and use. This is why we need to think about how we can keep our personal information private and secure and not give permission as open and freely as we seem to be.
Don't forget you own your phone, tablet and computer and you should own your personal data so you have the right to control what apps are on your device and what information they are allowed to use, or not have permission or access to.
If you want to find  tips on how to protect your privacy check out this blog post.
Share this post: