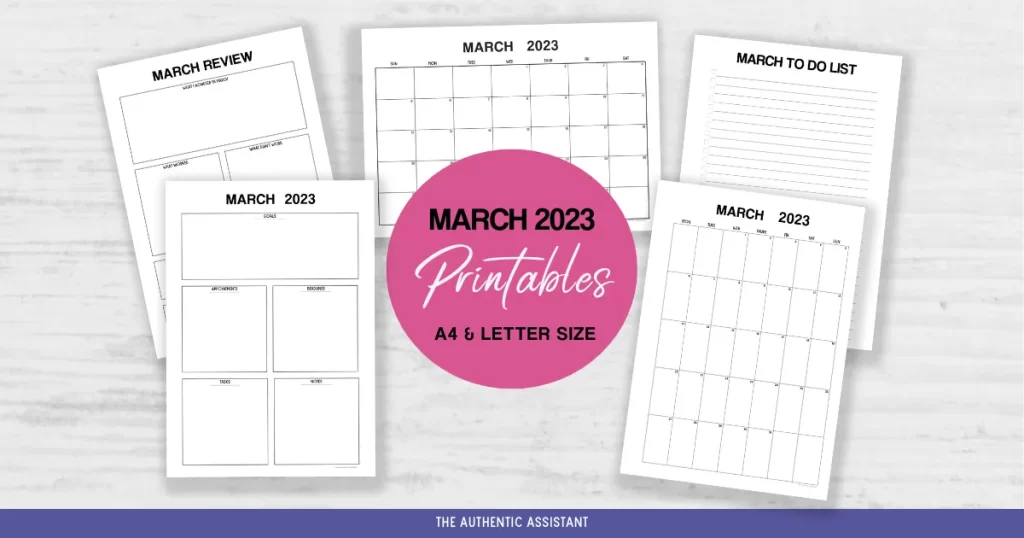 Looking for some March 2023 printable planner pages to organize your month? We are already over half way through February and the month of March is around the corner. What else needs to be done in February?
Feeling like you are pushing things out and not getting things done? Check out the free printable pages here and start to organize your life and prepare for the following month. 
Using these free printables now can help you to become more productive, reduce stress and free up your time. 
Write down all the tasks and things you have to do.
Mark those that have to be done in March.
Plan your month ahead of time.
Write out all the things you have to do in March.
Plan out your work and personal goals.
Fill in your appointments and dates to remember e.g. birthdays or events. 
Add any deadlines and tasks. 
Printable March 2023 Calendar in 4 Formats
The March calendar is available in portrait and landscape format and with Monday and Sunday start to the week. Just choose the one that suits your needs and style.
The planner pages are minimalist in design and save ink in your printer while allowing you to add your own colours and styles. Use any colour highlighters or pens. Add some stickers or washi tape. The choice is yours. 
Decorate and fill them in. Pin them to your fridge or keep them at your desk in your folder.
This allows you to keep track of all that you need to do for March and mark off when things are completed. 
March Review Printable Planner Page
A March review is also available to let you fill in what has or or hasn't worked for you for that month. Write down any funny moments and things that you have achieved. Motivate yourself by adding in things that you are looking forward to. 
This free March 2023 printable planner pages set could be the answer to your organizational needs.
Check out the blog next month for some free printables for April. Why not build a new habit. Start organizing your life and preparing for the following month. Reduce stress in your life and become more productive.